NECK SUPPORT MASSAGER : Providing crucial heating support which helps your neck muscles to relax. Technology will also help increase blood circulation and relieve pressure.

NECK PAIN RELIEF : Relieve pain from through self heating, good ventilation, and comfortability.
RELAX AT HOME : Use while resting and relaxing at home, while working in your office, while watching TV, reading a book, listening to music.
Guaranteed to reduce and ease pain within 30 days or your money back with no questions back.
Our Self Heating Neck Pad has shown to improve and relieve pain within 30 days or your money back guaranteed.
Order Processing and Delivery
Orders are processed within 1-2 business day. After your order is processed you should receive your tracking information right away.
Visit Track Your Order to see the latest status.
Deliveries on average take 3-7 business days.
Order Cancellation
All orders can be cancelled until they are shipped. If your order has been paid and you need to make a change or cancel an order, you must contact us within 12 hours. Once the packaging and shipping process has started, it can no longer be cancelled.
Refunds
If you did not receive the product within the guaranteed time, you can request a refund or a reshipment. If you received the wrong item you can request a refund or a reshipment.
Returns
Your satisfaction is our #1 priority. We offer risk-free 30-day guarantee. If you do not want the product you've received you may request a return to us with no restocking fee for refund, but you must return the item at your expense. Please contact us at returns@thebruinsol.com
1. Magnet and Tourmaline self heating spot

2. 51cm*11cm
3. Infrared physiotherapy, health care
4. Massage Belt
5. Temperature can be reached at 40℃(104°F)
6. Its belt is flexible and the size can be adjusted, suitable for various neck sizes
7. During the treatment, hands free.
The Air Compression Double Heated Neck Pad is not a medical device. Please always consult with your doctor for any medical related issue/concerns.
ITS BEST TO PROTECT YOUR NECK
Feel better in 30 days or your money back guaranteed!
We use our neck in many ways in our daily life joints in many ways in our daily life. Any type of issue with our Neck is bad for our long term health. We know that neck pain will impair our daily life which will result in more difficulties.
When neck pain is not treated it greatly effects our health. This can result in mental problems like poor focus, restless nights, increased stress, reduce productivity, and social impairment which will affect the quality of your life.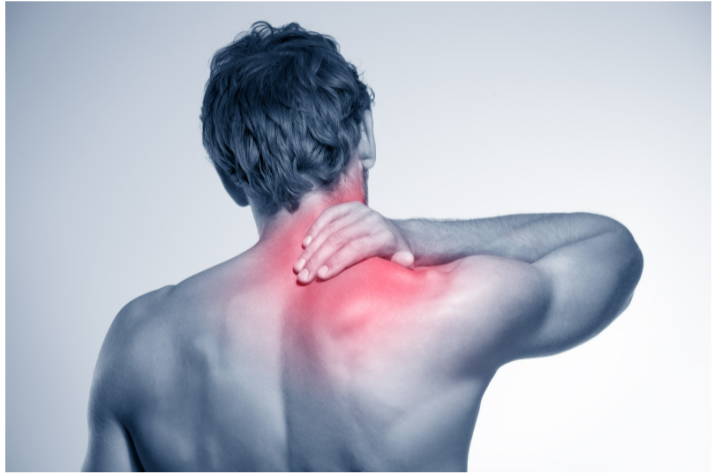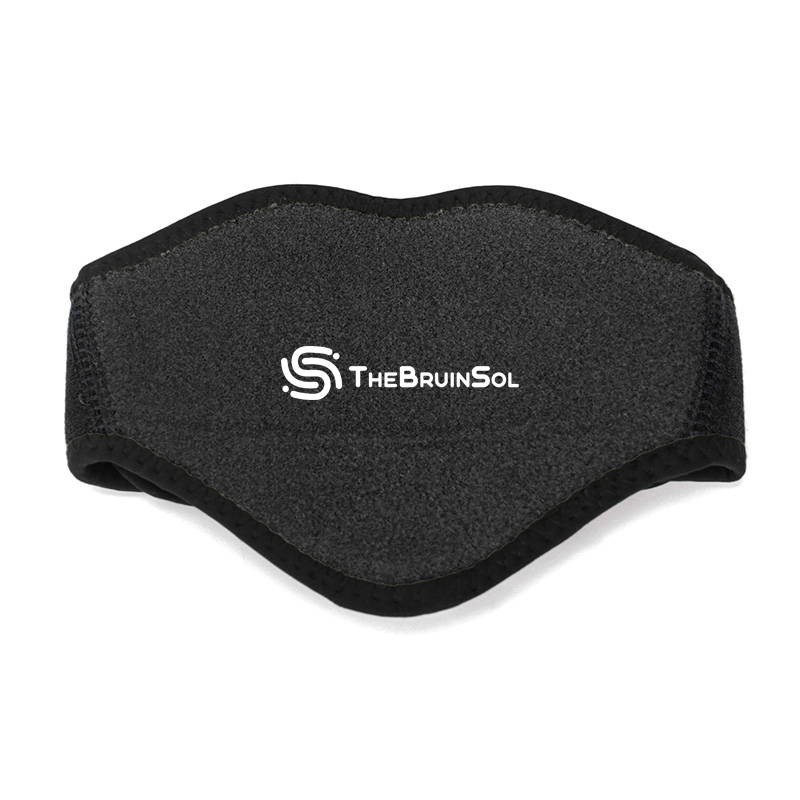 Use the best method of relaxing and relieving pain by IR therapy, tourmaline, self-heating, and biomagnetic waves.
With one investment you will in return save yourself from paying for unnecessary treatments.
A low cost and effective way to relieve pain and stiffness, in turn giving you back your life.

The Heated Neck Pad will relax the neck and release pain. The heated mechanism will promote blood flow resulting in relaxation, reduce stiffness.
Can effectively improve blood circulation, promote metabolism, and clear the meridians, enhance immunity. It is normal to feel itching and acupuncture because the Neck Pad will release a large amount of far-infrared negative ions and bio-electricity when it meets water or sweat, then works on the body.
Your at home personal massager.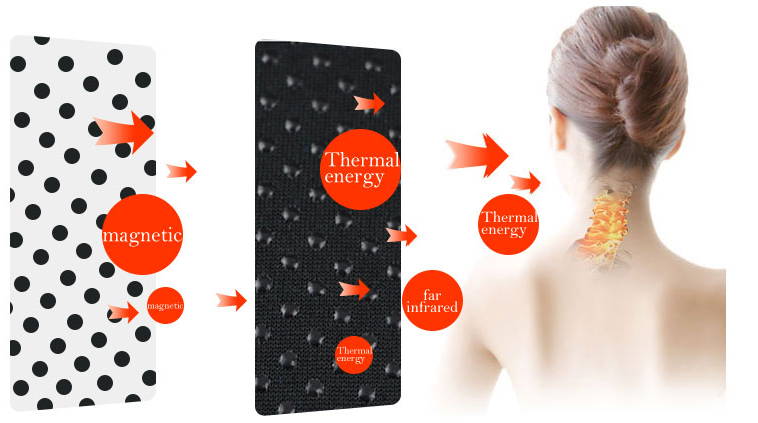 Release biomagnetic waves to continiously massage the neck. This can help can help stimulate nerves, relieve muscular tension and decrease stress. This is an effective treatment to produce a feeling of relaxation, relieving tight muscles, reducing stress, and improved circulation.
Enhances cellular immunity and promote repair of damaged cells.
Heating helps soothe sore muscles. Heat opens blood vessels, which can assist the healing process and alleviate some of your pain. Neck pain can benefit from heat as blood flow increases.

✔ Dilate the blood vessels

✔ Promote healthy blood flow
✔ Help sore and tightened muscles relax.

RELIEVE PAIN AND KEEPS YOU GOING
With aging and other conditions in your life, wear and tear is usually an outcome for some of us. But that is not a problem, the biggest issue is when we do not address it. You may notice that doing regular activities such as looking at screen and staring at certain objects is sometimes not as easy as it once was.
The Self Heating Neck Pad will help stabilize, massage, relieve, and relax your neck resulting with you having less issues and enhancing your quality of life.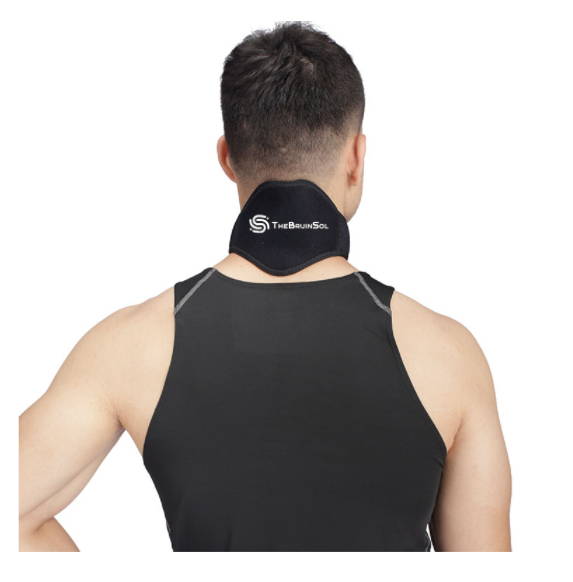 PAIN FREE LIVING IS POSSIBLE?
It only takes 15-30 minutes a day to relax and feel a difference!
✔ Beneficial to relieving the overall neck issues.
✔ Improves neck strength to support daily activities.
✔ Stretches tight muscles to relieve stiffness and soreness.
✔ Increase blood circulation to heal neck pain naturally overtime.
✔ Relieves pain naturally after several hours/days of use.
ENJOY IN THE COMFORT OF YOUR HOME OR ON THE GO!
Comfortable and easy to use. The Heated Neck Pad is easy and simple to use.
Use it anytime you want.
✔ While working in your home office
✔ While relaxing on the sofa
✔ While relaxing in the bed
✔ While at the dinner table
✔ While driving

1. Simply wrap TheBruinSol Self Heating Neck Pad around your neck to your liking.
2. Now relax and carry on with your day. The pad will start heating up which will help releive and ease tension in your neck.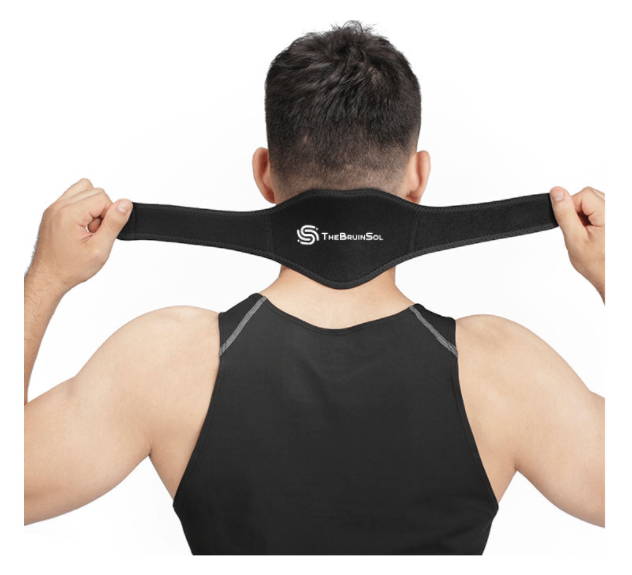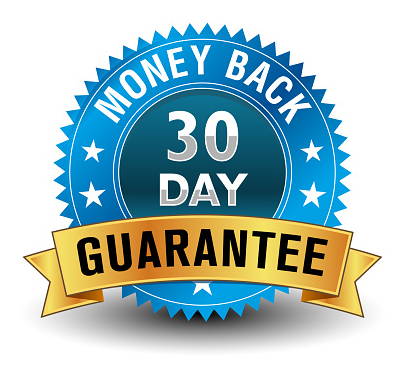 TRY COMPLETELY RISK FREE
SATISFACTION GUARANTEED
Try TheBruinSol™ Self Heating Neck Pad completely risk free for 30 days. If you are not satisfied, please contact our customer support within 30 days of receiving your order and we'll refund you, no questions asked!
FREQUENTLY ASKED QUESTIONS
Does the Self Heating Pad require a charger?
No, this pad does not come with/ require a charger for use.
How many Self Heating Neck Pads are included?
Each order comes with 1 Neck Pad. You are able to select the total amount you would like.
How are the 7 magnets arrranged?
There is 2 rows of 3 magnets and the bottom row has 1 magnet in the middle.
Size of the Self Heating Neck Pad?

The length of the Self heating pad is about 14.5 inches.

How long should I use TheBruinSol Self Heating Neck Pad?
We recommend you use it for 15-30mins 2-3 times per day as needed.
Can we take a nap while using the Self Heating Neck Pad?
No, this pad is only recommeded for use when you are awake
How long does it take to heat up?
Due to the difference in ambient temperature and humidity during use, the self-heating time varies for every individual.
Can I wear this on top of clothing?
No, TheBruinSol Self Heating Neck Pad works best if it is in contact with your skin.